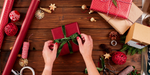 6 Sustainable Ways to Wrap Gifts
It's a gift-giving season! You've found the perfect gifts for your loved ones and now you're thinking about wrapping them. Or you're one of those people who asks their sister to do all the work for you!
Either way before you purchase the traditional wrapping paper, just think that every Christmas 8,250 tonnes of paper is consumed and less than half ends up in landfill. That's because wrapping paper is often dyed and contains glitter and plastics which makes it non-recyclable. A pretty sad ending to a kind act.
Happily, there are many eco-friendly gift wrapping alternatives that will make your gift look as fun and attractive. Take a look!
Use Old Magazines and Newspapers as a Gift Wrap
Not sure what to do with old magazines? Wrapping your gift in newsprint is actually quite attractive and will give a sophisticated touch to your gift. Opt for the simplest wrapping paper that you know can be recycled locally. Just try to find some that doesn't mention Brexit or Covid. We've had enough reminders 🙄
Decorate your Gift with Natural Gift Toppers
I love using flowers for gift wrapping. Instead of traditional plastic bows, try something more seasonal like pine sprigs, pine cones or dried flowers. If you're doing this with kids it's a great excuse to get them out the house and engaging with nature too! 
Wrap Your Gifts in Fabric
The traditional Japanese practice of wrapping and carrying goods in special cloth, Furoshiki, works wonders for presents too. Not only does it look elegant but it can also be re-used and involves zero waste!
Get Reusable Fabric Gift Bags
Looking for easy and quick wrapping ideas? Then reusable fabric gift bags are the best option for you. No tape, no ribbon. Easy-peasy!
Reuse Scrap Ribbons and String
If you've set aside ribbons and string over the year, it's time to use them. Old ribbons can be used for wrapping gifts or hanging Christmas ornaments.
Use Eco-friendly Tape
Even if the wrapping paper can be recycled, the plastic sticky tape will probably end up in landfill. So better to avoid the plastic waste. You can use sustainable tape that is made of materials like bamboo or hemp.
We can all help with the high volume of waste destined for landfills, by getting a little creative with our gifting.
What are your own sustainable gift wrapping ideas?
Jane Goodall says it best:
"You cannot get through a single day without having an impact on the world around you. What you do makes a difference, and you have to decide what kind of difference you want to make."