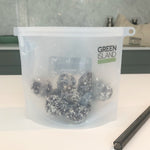 Whenever I go to my sisters house there is always a batch of these guilt free vegan protein balls in the fridge made by my brother in law. They're full of goodness, just don't eat them all in one go! Here is the recipe, adapted from the How Not To Die cookbook.
Ingredients
130g Pitted dates, soaked in hot water for 20 minutes then drained
185g Nuts of your choice. Walnuts or pecans work really well
115g Dried fruit. I like cranberries but you can use apricots or dried blueberries
35g Sunflowers seeds
2 tbsp Goji berries
2 tbsp Chia seeds
2 tbsp Ground flaxseeds
1/2 tsp Vanilla extract
1/4 tsp Cinnamon
Shredded coconut for rolling (optional)
2 tbsp Vegan protein powder of your choice. Chocolate is my fave (optional)
Method
Combine the dates and nuts in a food processor and mix until the nuts are finely ground and the dates are incorporated. Add the remaining ingredients and process until well mixed. The mixture should be very sticky. If it is too dry to hold together, add a little water one tablespoon at a time. Careful not to get it too wet. If you add too much water, just add a little more flaxseed until you get the right consistency. 
Spoon out a heaped tablespoon and roll into balls. If you're using coconut, sprinkle some on a plate and roll each ball in it until they are well coated. Place all of the finished balls on a plate, cover with another plate, or one of our silicone stretch lids and place in the fridge to set for 4 hours. Enjoy at home with a cup of your favourite tea or coffee, or take them out with you as snack on the go. 
----------
Check out our eco-friendly kitchen products...
Check out our full kitchen collection.