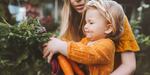 How To Get Kids Into Sustainability
Living an eco-friendly life is a hot topic in today's society. It's crucial that we all look after our planet for our children to enjoy well into the future - but how do we make sure that our kids know how to care for our earth too?
As with most things - it all starts at home!
So here are a few ideas to help you get your kids living sustainably from the get-go.
Put The Power In Their Hands!
Kids love it when the roles are reversed, and they get to be the ones in charge for once. So why not give your kids a bit of eco-authority?
Promote your little one to 'Recycling Officer': help them make clear, colourful, and easy to understand labels for your home's recycling bins. Once they know what waste gets put in what bin, they'll love making sure everything gets sorted correctly! 
Or how about appointing them ''The Power Police' or 'Energy Monitor'? Make them a badge or special uniform, and put them in charge of making sure that everyone in the household switches off the lights when they leave a room, and that they don't leave the tap running when brushing their teeth. 
If you have a smart meter, you can use this to encourage them in their new role. The kids will love figuring out which appliances are the least energy efficient, and which they should 'police' extra strictly! 
Move over grown-ups, the kids are in charge now!
Go Green (Fingered)
One of the best ways to encourage a passion for sustainability is to teach your children to love and care for nature from an early age. And this isn't too hard to do, since kids generally love being hands-on, getting a bit dirty, and learning about the world around them, without too much encouragement!
Follow our lead here at Green Island, and plant a tree, or get the kids to help you set up a small vegetable patch or flower garden. Teaching your kids how to care for the plants from the start is a fantastic long-term activity - and the rewards are plentiful! There's a real magic in picking fruit and vegetables that you've grown together, and enjoying them on your plate. Plus, kids love spending time with their parents, and gardening together is a truly bonding experience that they'll remember forever.
One added extra benefit will be that if the kids have grown that yucky broccoli themselves, they might even be persuaded to eat it! 
If you don't have much space for a big vegetable patch, don't worry - even old boots or teapots can be used as containers for a few seeds. Use any container you can find lying around, and use this as another chance to encourage recycling! 
Make Sustainability Creative
There are plenty of opportunities in daily life to make being eco-friendly fun and creative. Why not unleash your inner mad scientist as you and the kids experiment with making eco-friendly laundry detergent? Kids love to measure and pour different ingredients!
There are opportunities to get crafty too - who can forget the famous Fairy Liquid 'rocket' bottle campaign? Take every chance to turn normal household items into something new; old clothes can get a new life as a fancy dress costume, and empty containers could become jewellery boxes. Let the kids take the lead here - their imaginations will surprise you!
Think 'Bug'...
Encourage your children to love and respect all animals, bug and small, by making a 'bug hotel' for your creepy crawly friends. All you need is a few pieces of old wood and clay plant pots! Check out this great guide from the RSPB. 
Once your hotel is open for business, the kids will find it super interesting to keep a record of who checks in and out! 'Did you enjoy your stay, Mr and Mrs Ant?'
Learn and Grow Together
The biggest thing you can do to encourage your children to live sustainably is to practice what you preach. 
Be a role model for your tribe by minimising waste, buying reusable products, turning appliances off, saving water, choosing bike rides over car trips, and by generally doing your best to live responsibly. This is a sure-fire way to influence their behaviour - kids learn by copying! Why not kick off your household sustainability initiative with our ultimate family bundle of eco-products?
As well as doing your best to live in an eco-friendly way, it's also important to show your kids that there are always opportunities to do better, and that we should all be constantly striving to learn. Read a child-friendly article together, or take an eco-quiz, so that living more sustainably becomes a household goal, not just something for the kids to do.
So there we have it! A few simple ways to get the kids excited about 'green living' - after all, they are the future custodians of the planet, so it really couldn't be more important!